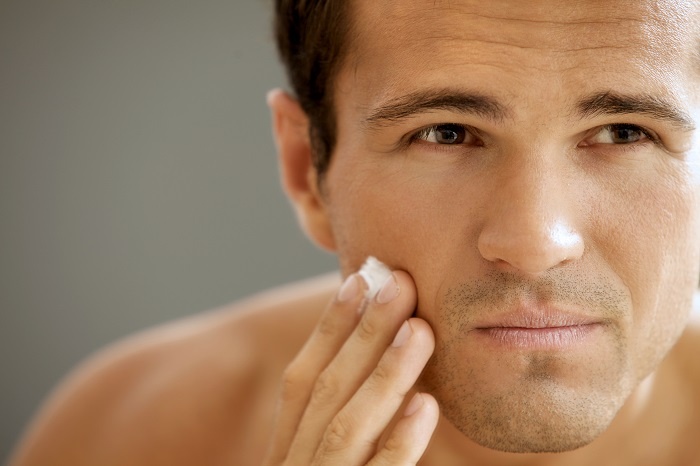 Did you know that facial skin differs between men and women? Apart from the obvious difference of facial hair, men's skin is approximately 25% thicker than a woman's, oilier and tougher.
During puberty, stimulation of androgens; including testosterone and dihydrotestosterone, creates structural differences in the skin. These hormones also increase sebum production, explaining why males are more susceptible to longer lasting bouts of acne during puberty.
But there's good news, men also benefit from increased collagen, a protein essential for skin strength, elasticity and cell renewal.
That doesn't mean men can afford to compromise on skincare. Failure to protect against UV damage from the sun increases skin ageing, increasing the appearance of wrinkles, dark spots and moles. All that sebum, combined with pollutants in the atmosphere and everyday grime means every man needs a daily scrub to keep skin clean, fresh and healthy.
Shaving can also take its toll on the skin, and many products contribute to dry, irritated skin. It can be difficult to choose products containing natural soothing ingredients, suitable for sensitive skins, without trawling through a list of ingredients on the packaging.
What To Look For In Male Grooming Products
Good face care starts with high quality, versatile and natural products that cleanse and nourish the skin, as opposed to stripping the skin with synthetic chemicals. Most men don't want to mess around with lots of different products that take time and effort to apply. Nor do they want to smell flowery and feminine. Products containing natural ingredients tend to have a more organic scent, so are less likely to clash with male fragrances, and may also contain calming essential oils to provide healing skin benefits.
Cream, Gel, Or Soap?
Creams and gels are easy to apply, provide adequate lubrication, and good moisture levels during shaving. But investing in a good quality shaving soap provides the additional benefits of cleansing, lathering and moisturising, all at the same time.
The best quality soaps have a high fat content, at around 30-50%. This creates a rich skin softening and cleansing lather that also hydrates the skin. High fat levels soften hair and leave skin smooth. For men seeking a clean cut look, these fats are essential to achieving the perfect shave. The rich lather creates a lubricating barrier for the skin, helping razor blades to glide smoothly over facial contours, without causing cuts and irritation.
Introducing Sable Knight – A Natural Skin Care Range For Men
Men can now benefit from the healing, soothing skincare benefits of natural, organic shea butter, with the Sable Knight male grooming product range from Akoma Skincare. Shea butter is a rich, non-greasy, all-natural emollient, which has been used in Africa to care for skin and hair for thousands of years. Shea butter is packed with healing and rejuvenating nutrients, including vitamins A and E, and essential fatty acids, for smooth, healthy skin.
The Sable Knight range includes a variety of male grooming products, designed to protect and cleanse facial skin, without making men smell like women! Using only the finest, organic, vegan certified ingredients Akoma's Sable Knight range is perfect for everyday use, or as the ideal gift to keep your man looking his best, naturally.
Akoma Black Foaming Soap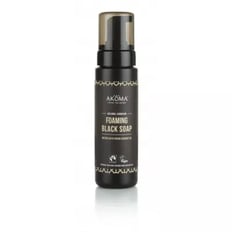 Add a little black magic to your face care routine, with Akoma's Black Foaming Soap, perfect for cleansing and shaving. Ghanaians have been using black soap for centuries to alleviate a wide variety of skin conditions affecting both dry and greasy complexions. The healing antioxidants and anti-inflammatory properties of the natural shea butter used in our black soap is ideal for treating acne, eczema, blemishes; or simply for clean, smooth skin.
Our foaming black soap has an organic scent, creates a fast lather, and is even gentle enough for use on hair.
Akoma Bergamot Shaving Soap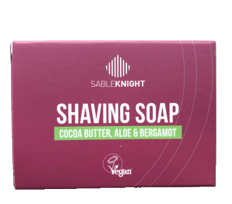 Our Bergamot Shaving Soap contains, cocoa, shea butter and soothing aloe for smooth, luxuriously moisturised skin. The rich fat content of the shea butter and cocoa promote a silky shaving experience, for a close shave with reduced bumps.
Akoma Lemon and Juniper Shaving Soap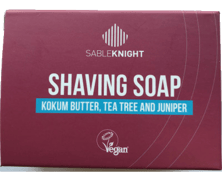 Healing shea butter and aloe vera are enriched with natural antibacterial essential oils in our Lemon and Juniper Shaving Soap. Clean, freshly scented ingredients include the natural antiseptics tea tree, juniper and lemongrass, perfect for balancing oily skin, while delivering intense moisture.
Akoma Ylang & Lavender Shaving Soap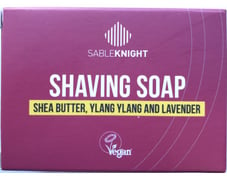 Lavender is one of the most versatile essential oils, used to clean, heal and reduce inflammation. Ylang ylang is a natural antidepressant, and is used to boost the immune system and increase circulation. Our Ylang & Lavender Shaving Soap is perfect for the man who likes a relaxing, uplifting shave.
Great Value
From just £3.79, our soaps are packed with the highest quality natural ingredients, providing incredible value for money. And because soap lasts longer than a cream or a gel, you can enjoy the healing, soothing benefits of our natural grooming products for longer.
Ethical Choice
If you care about where your skin care ingredients come from, you'll be pleased to know that Akoma are an ethical company, dedicated to fair trade practices and values.